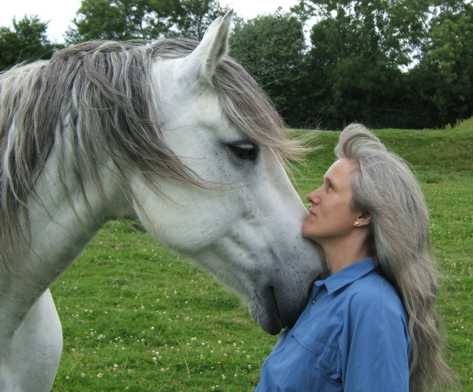 Debbie Survila BSc., RegESEBT, MBTER, DEP is Balanced Reason's founder and lead practioner. She has over 35 years experience in working and living with horses, having studied extensively the most effective ways for horses and humans to live together for their mutual well-being, both in the UK and abroad.

Debbie is a trained Bowen therapist for both human and horse. She is a member of the BTER (Bowen Therapists European Register) and as an Equine Bowen Therapy (EBT) practitioner, registered with the European School of Equine Bowen Therapy.

Debbie is a Degreed Equine Podiatrist (DEP) and a member of the International Institute of Equine Podiatry and the UK self-regulating body, the Applied Equine Podiatry Association.

Originally qualifying with a BSc (Hons) in Agricultural Botany she is also able to give comprehensive advice on pasture management and ecological sensitivity.

To discuss how Balanced Reason can help you and your horse to improve, call Debbie
on 07727 180700 or click here to email her
Balanced Reason was created to fulfill a need for a natural approach to improving human and equine performance. To achieve the benefits that can be gained needs a true understanding of the implications and commitment needed both in the short and the long term and the Balanced Reason philosophy is one of making some important promises

– The advice you receive will be the best you
can find
– No-one will put the well-being of you and
your horse higher
– Performance is about achieving at a level
that brings you and your horse the greatest
pleasure, we will enable you to find this
place
– Your commitment to working in partnership
with us is what will make change happen

We want to instil a sense of new possibilities, of empowerment and freedom to make choices to help our clients start to question and make choices for themselves and beyond all else, be happy with their choice of equine partner and to value their own and their horse's abilities.